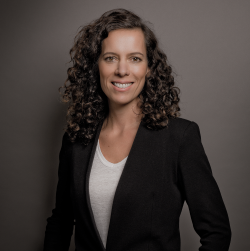 RatePAY
Gründerin und Geschäftsführerin
Bevor sie im Jahre 2000 in die Online-Payment-Branche einstieg, arbeitete Miriam Wohlfarth zunächst bei Hapag-Lloyd, einem Transport- und Logistikunternehmen. Daraufhin war sie bis 2010 bei mehreren Payment und E-Commerce Unternehmen, wie etwa Bibit und Worldpay (The Royal Bank of Scotland) sowie der Ogone GmbH, in verschiedenen Positionen tätig. 2009 gründete sie RatePAY – heute eines der erfolgreichsten deutschen FinTechs. RatePAY bietet verschiedene, an den Kunden angepasste Payment-Lösungen im Online-Zahlungsverkehr an. Des Weiteren ist sie seit 2016 Partner von paymentandbanking.com.
Neben ihrer Unternehmertätigkeit ist Miriam Wohlfarth auf vielen Veranstaltungen als Referentin zu sehen, ist als Netzwerkerin und Mentorin bekannt und in verschiedensten Organisationen, wie etwa Women in Digital e.V. oder Merchant and Risk Council, aktiv. Dazu ist sie Initiatorin verschiedener Veranstaltungen, wie z.B. der Payment Exchange sowie Banking Exchange.
Miriam Wohlfarth hat durch ihre Expertise große Payment Service Provider mit aufbauen können und wird uns daher sicher einen idealen Einblick in das Thema FinTech geben.