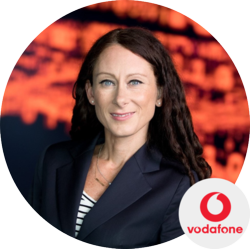 Vodafone Deutschland
Geschäftsführerin Strategy & Digital
Anna Dimitrova, Jahrgang 1976, studierte Marketing, Wirtschaftsinformatik und Controlling an der Universität Erlangen-Nürnberg und startete ihre Karriere im Frühjahr 2001 im Marketingbereich von Vodafone Deutschland. Nach verschiedenen Managementpositionen im Unternehmen wechselte die gebürtige Bulgarin 2012 unternehmensintern als Finanzchefin nach Tschechien. Seit Dezember 2014 ist Frau Dimitrova Teil der Geschäftsführung von Vodafone Deutschland und verantwortet dort seit April 2016 das Ressort "Strategy & Digital". In dieser Position setzt Sie sich für die Erschließung neuer Geschäftsfelder, wie etwa Lösungen für die Industrie 4.0 oder das "Internet of Things", ein und ist verantwortlich für die Entwicklung neuer Geschäftsmodelle auf Basis der zukünftigen 5G-Mobilfunknetze.
Mit über 14.000 Mitarbeitern ist Vodafone Deutschland die größte Landesgesellschaft der international tätigen Vodafone Gruppe. Das Unternehmen liefert Privatkunden Internet, Telefon und Fernsehen aus einer Hand und ist auch bei Geschäftskunden mit einem breiten Portfolio an IT-Lösungen vertreten. Zusätzlich treibt das Düsseldorfer Unternehmen aktiv den Infrastruktur-Ausbau in Deutschland voran. Im letzten Geschäftsjahr erwirtschafte das Unternehmen einen Umsatz von über 10 Milliarden Euro.
Wie werden sich das "Internet of Things" oder die ultraschnellen "5G-Netze" auf unser Leben auswirken? Welche Chancen stecken in diesen Technologien? Und welche Herausforderungen gilt es noch zu meistern? In Ihrem Vortrag widmet sich Frau Dimitrova dem allgegenwärtigen Buzzword Digitalisierung und präsentiert anhand aktueller Entwicklungen bei Vodafone unseren Weg in eine vernetzte "Gigabit-Gesellschaft". Wir sind gespannt, wie Sie dieses Buzzword beleuchtet.